Even though Bitcoin had been in the center of attention in 2020, one of the popular altcoins that did not receive enough attention is Litecoin (LTC). Since December 18th, 2019, the price had started a robust upward move, that currently accounts for a 100% rise in value. This is good news for LTC buyers but could also signal something positive for the entire market.
LTC – the early market signal?
If we analyze what happened in Q1 2019, Litecoin had been one of the first cryptocurrencies to start an impulsive move higher. The price broke higher well-before Bitcoin and its peers, a pattern that had been witnessed before the 2017 bull market and the 2018 bear market. Simply put, LTC seems to be acting as an early market signal, showing how the valuations could perform in the near future.
Last summer, LTC topped on June 22, and Bitcoin did the same six days later, confirming the coin's status as some sort of an "early signal" for investors. Given the price had already started to show great strength, it seams 2020 will be another year when large-cap altcoins could dominate. That's somehow obvious since small companies like Opporty and Veritaseum are struggling with regulatory requirements.
Technical analysis points for more upside
From a technical point of view, Litecoin had broken above a key support area located around the $65 price tag, and since then it continued to make new highs. The momentum does not seem to be fading, meaning there could be some steam left until the price gets to the $80 psychological area.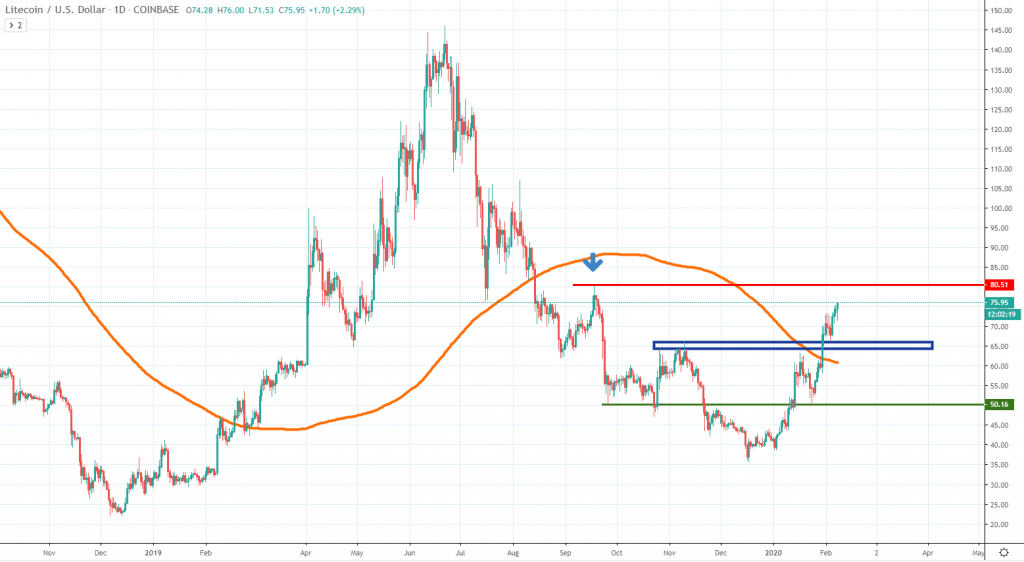 The leg that started in mid-December 2019 does not compare to any other bullish corrective moves seen in H2 2019, meaning we could have a new surge similar to what happened between December – June 2019. It's important to mention that there is a balance of probabilities and things must be taken step by step.
Price action can rotate in the other direction at any point in time, meaning traders/investors must monitor the latest market developments. Crypto derivatives and the 2020 Bitcoin halving seem to be the main market themes right now and given what happened in the past (2012 and 2016) we should expect to see increased volatility in the cryptocurrency market.
As long as the fund flows will be positive, the upward movement should be levered up, but we should proceed with caution and take things one at a time. Based on the current conditions, LTC is poised to continue to outperform in the near future.