After raising more than $4 billion in funding, EOS continues to hold the title for the largest ICO on record, but still, does not manage to deliver on the promises. For the past few months, the EOS network had several issues and now it seems like this is happening again.
According to Coinbase, one of the largest cryptocurrencies in the United States, the "EOS network has degraded performance and sends/receives might be delayed". The status was updated on February 20th, followed by a tweet two days later, stating the problems were persisting, which lead the exchange to temporary disable external EOS sends.
Not the first EOS issue
Although the buys and sells of EOS within Coinbase were still functional, the EOS network faced a major issue at the end of January, when it missed an average of 20,000 blocks per day. Experts had been warning since October last year that the EOS network is vulnerable to a congestion attack, which might lead to a complete freeze of the network.
What's even more important to note is that the blockchain had freezing problems just after launch and recently suffered network congestion problems created by the EIDOS token airdrop. Based on a response from EOS Nation provided on February 22nd, the EOS mainnet was "extremely reliable" despite issues with micro-forks on February 20th.
EOS price on the rise, instability showing
Since the beginning of 2020, EOS had been rising and by mid-February, it was already up by approximately 100%. However, the market was unable to sustain the gains and had retraced impulsively on the downside, even though most of the other large-cap tokens are still close to this year's high.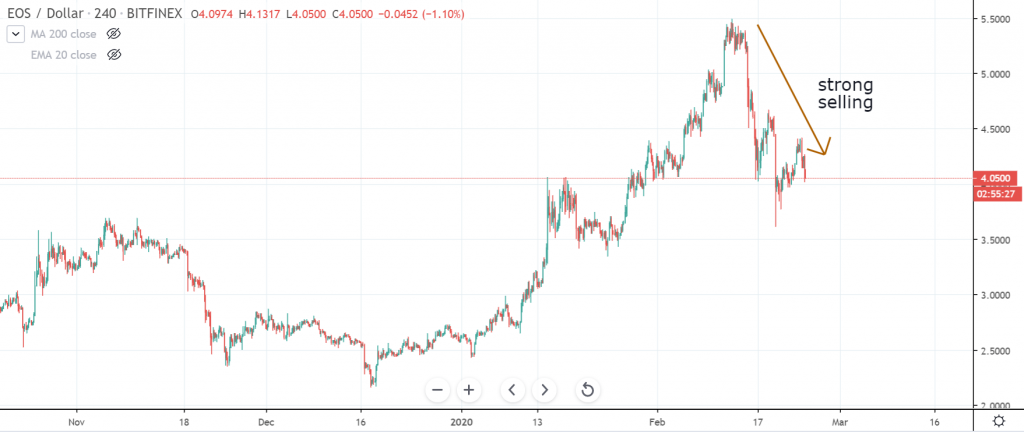 The price topped around $5.5, as you can see from our chart and since then, it retraced more than $1. So far, news had been good for cryptocurrencies in 2020. Microsoft announced it will bring the Lition blockchain solution to its cloud and new Bitcoin derivatives had been launched. Things are not too positive for EOS, the 8th largest cryptocurrency by market cap, and its latest developments dampen the prospects for the near future.
Considering that the expectations following the $4 billion ICO were so high, there's no surprise the conditions for EOS are so depressed and a series of new developments will be required in order to turn the market momentum. However, that's not the case for the token and based on the current conditions, it won't be a surprise if more losses occur in the near term.