General Information
A trading brand owned by Click World Ltd, CMarkets Group is a trading platform specialized in cryptocurrencies. Due to a series of proprietary features, the broker is one of the most promising providers in 2020, as we're about to see in our review. The services are available for customers all around the world, except for citizens and residents from the United States. It's important to note that all clients must comply with KYC and AML Policies, and submit an identification document as well as a proof of address.

The most important thing to note about CMarkets Group has to do with the high number of contracts currently available for trading. There are more than 100 different contracts based on most of the popular tokens and denominated in US dollar or Euro, alongside USDT pairs and crypto-to-crypto. This gives the company a significant advantage over regular brokers that offer just a few handfuls of contracts based on cryptocurrencies.
Thanks to the growing interest in crypto assets, companies like CMarkets Group are more than welcomed. Traders around the world are searching for good trading conditions for cryptocurrencies and by the end of our review, we hope to make people understand if it's worth working with this broker or not.
Trading Platforms
CMarkets Group had treated its trading software with great importance. That's the main reason why the company does not rely on MT4, MT5, or any other popular platform. Instead, SIRIX had been built from scratch to meet the specific demands of the cryptocurrency market. Available in versions for Android, iOS, browser, and desktop, it is one of the most flexible trading platforms currently in existence.
Aside from one-click execution, user-friendly interface, a clear and intuitive dashboard, actionable trading insights, and chart analysis, SIRIX comes with built-in social trading features. That's good news for beginners who want trading ideas from expert traders. The social stream integrated into SIRIX provides live updates of the latest trades placed by some of the top traders. CMarkets Group clients can copy any trade by only clicking the "Copy" button available below each trade.
The platform is highly customizable, allowing clients to resize windows, change themes, or switch between 20 different languages. That means it will be easy for client's residents in any country to find a familiar language in order to use the platform conveniently.
CMarkets Group Apps
More than 60% of retail traders are using mobile trading apps on a day-to-day basis and the current uncertain market condition only makes the use of apps more important. CMarkets Group had been fully aware of this demand and as a result, had come out with SIRIX versions for both Android and iOS devices.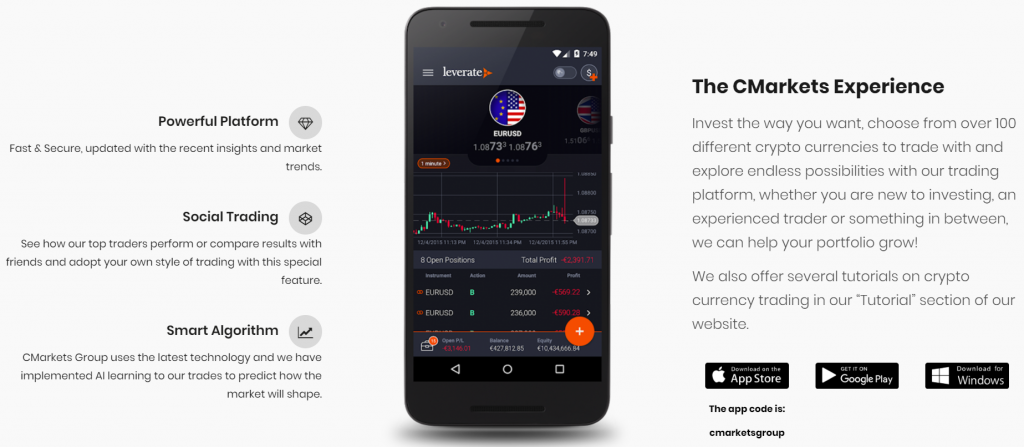 With the app, clients can put their trading accounts in their pocket and take it anywhere. Whether on a smartphone or a tablet, Sirix Mobile is designed to make sure traders don't miss a pip. Staying in close touch with the markets is not important to only manage open positions, but also to spot new trading opportunities when the volatility spikes.
Cryptocurrency Trading
Traders interested in cryptocurrency trading should choose CMarkets Group instead of other brokerage companies, due to the wide coverage of cryptocurrency contracts. At the present time, there are more than 100 different pairs clients can trade, more than with any other company. The big list includes Bitcoin, Ether, Litecoin, XRP, Monero ZCash, Dash, Stellar, IOTA, Tron, Bitcoin Cash, Ethereum Classic, and plenty of other different tokens.

It's important to mention that traders can trade contracts denominated in the US dollar, Euro, or USDT. Also, crypto-to-crypto pairs denominated in BTC, ETH, or XMR are available. Leverage ranging from 1:200 to 1:500 helps clients increase their potential market exposure without having to deposit a lot of money. Swaps and withdrawal fees are other trading costs that clients should consider.
Pros and Cons
CMarkets Group provides access to 100+ different crypto-to-fiat and crypto-to-crypto pairs.
Proprietary platform designed for the cryptocurrency market.
Premium trading features that can help traders find trading opportunities.
Relatively- high deposit required for opening an account.
Not regulated by any important financial regulator.
Most trading features available only for clients able to deposit more money.
Summary
After balancing both positive and negative characteristics, we've concluded that CMarkets Group is a suitable platform for traders wanting to focus on the cryptocurrency market. The offer set into place by the company is competitive and promises to provide some of the best conditions to help clients succeed in the challenging world of crypto.
During our analysis, we did not find any proof suggesting CMarkets Group is a scam company.
CMarkets Group Review


Product Name: CMarkets Group
Product Description: The growing industry of cryptocurrencies facilitates the appearance of trading brands specialized in crypto instruments. It is the case with CMarkets Group, a relatively new trading brand owned by Click World Ltd. Launched in 2020, the website provides access to a wide range of trading services designed to meet the challenges of the cryptocurrency market.
Brand: CMarkets Group
Offer price: 100$
Currency: USD/ EUR / GBP
Offer URL: https://cmarketsgroup.com/
Trading Platform

Languages

Spread

Support
Summary
A trading brand owned by Click World Ltd, CMarkets Group is a trading platform specialized in cryptocurrencies. Due to a series of proprietary features, the broker is one of the most promising providers in 2020, as we're about to see in our review.
Pros
The most diverse offer, with more than 100 contracts based on cryptocurrencies.
SIRIX platform designed for the challenges of the crypto market.
A Broad offer of trading features enhancing the trading process.
Cons
Not regulated by any major regulator.
High spreads for low-liquid instruments.
Relatively high initial deposits required.