General Information
AlphaLive is a cryptocurrency-focused online trading brand. As cryptocurrencies continue to be very active, an increasing number of traders demand better first exposure to this exciting world.
This brand comes with a broad selection of cryptocurrency instruments, enabling its customers to trade with leverage and take notice of the market volatility. Simplicity and reliability are two of the most important characteristics of this brand, as we're about to see in our review.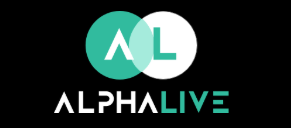 As always, the emphasis will be on the trading software, since most of the features have been integrated into the platform. AlphaLive wants to provide an affordable trading solution in 2020, but does it manage to do so? Let's see what this brand can offer for anyone interested to trade crypto.
Trading Platforms
The AlphaLive WebTrader is the place where all the important things happen. Since it plays such an important role in the trading process, the company has developed its platform, integrating the tools and features necessary to tackle the challenges of the cryptocurrency market. The platform is web-based, available through the browser, with no installation required.
Among the most important features, advanced charting is on top of the list. With charts powered by TradingView, technical analysis strategies will be much easier to implement. Multiple chart types, time frames, drawing tools, technical indicators, and other technical tools from TradingView are available in the AlphaLive platform. As an increasing number of traders choose to rely on these charts, the brand had taken a step forward and integrated them into the platform.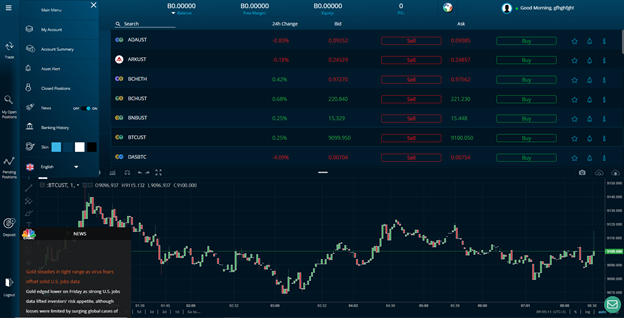 To further enhance the web platform's abilities, AlphaLive made several other important integrations. Firstly, traders can make a quick credit/debit card deposit directly from the platform. They can also place asset alerts, view the account summary, or enable the news section, where they can see live headlines from CNBC.
AlphaLive App
Trading the cryptocurrency market is a real challenge and requires close market monitoring. That can be an issue while on the go, which is why AlphaLive offers a mobile app, as well. Currently available only on Google's Play Store, the app is the ideal tool to keep track of the cryptocurrency market when not at your desk.
It is fast, smooth, while at the same time, it integrated enhanced security features to protect personal data and client funds. Traders will be able to open trades, monitor already opened positions, analyze charts, or even conduct technical analysis from their mobile devices.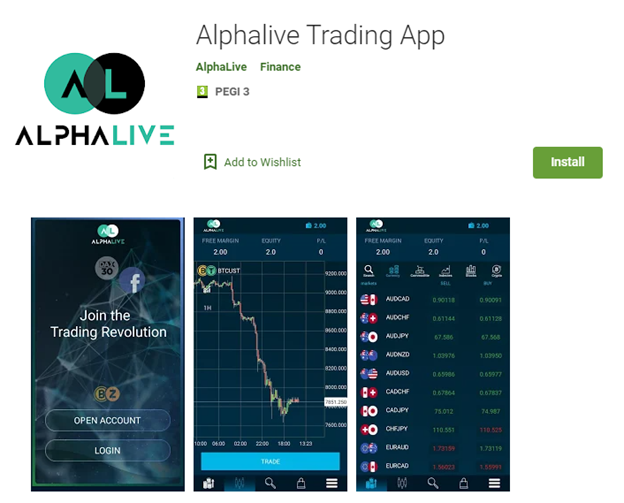 Cryptocurrency Trading
As a brand specializing in cryptocurrencies, AlphaLive wants to have an edge by providing access to a wide range of crypto instruments. Traders can trade on more than 30 different crypto instruments, ranging from popular cryptocurrencies like Bitcoin, Ether, XRP, or Litecoin, to altcoins like Dash, ZCash, Monero, Tezos, or Stellar. With a broad coverage for crypto, traders will be able to find trading opportunities daily. They can trade this selection of crypto against the popular stablecoin Tether, or benefit from Bitcoin or Ether-denominated pairs.
However, it could be an inconvenience for traders wanting to trade other assets. Keep in mind that AlphaLive is solely focused on cryptocurrencies. However, with so many different crypto instruments, it is easy to build a portfolio or have exposure to different tokens, to spread the risk.
It's worth mentioning that traders can trade with 1:5 leverage and benefit from competitive spreads. Overnight swaps should not be forgotten, because this is another trading cost to be taken into account.
AlphaLive is committed to providing a list of comprehensive features, including next-generation trading technology, superior performance and user interface, fast order execution, and professional customer support. A team of experts will always be at the customers' disposal. They can use either the email address or get in touch with a representative directly from the trading platform.
Pros and Cons
A broad selection of cryptocurrencies, covering both large-cap tokens and altcoins
Trading cryptocurrencies with 1:5 leverage and competitive spreads
Simple platform with multiple trading features integrated
Support for cryptocurrencies only, with no other asset class available right now
No mobile app for iOS users and no desktop platform
A single account type with the same features for all traders
Summary
AlphaLive is a trading brand known for its ability to provide easy access to some of the best cryptocurrency-related services. Based on our analysis, we did not find any negative factor nor that the brand might not work on behalf of its customers.
With that being said, we believe AlphaLive can be a great option for traders wanting to focus their daily activity on the cryptocurrency market, only. The trading software is well-suited for the cryptocurrency market, although there is no desktop platform or mobile app for iOS devices. Broadly speaking, AlphaLive is a trusted brand, with a very competitive offer.
AlphaLive Review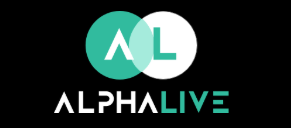 Product Name: AlphaLive
Product Description: AlphaLive is a cryptocurrency-focused online trading brand
Brand: alphalive
Offer price: 100$
Currency: USD / EUR / GBP
Offer URL: https://alphalive.io/en
Trading Platform

Languages

Spread

Support