Elon Musk
Elon Musk had his Twitter account temporarily shut down after a tweet he sent out in response to a follower about 2 factor authentication for Musk's company Tesla. The tweet was a mysterious response about Bitcoin that immediately got over 8,800 likes and over 3,500 retweets.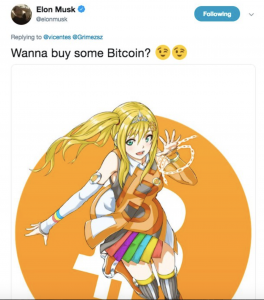 Musk's tweet included a female image of a anime character and the Bitcoin logo along with the quote "wanna buy some Bitcoin? It is unclear if this was meant to be a joke about the 2FA (2 factor authentication) many cryptocurrency investors use to help protect their tokens or an indication of things to come for Tesla. Could the company be making a push towards accepting BTC as a payment method for vehicles?
The speculation even sparked a response on Twitter from Binance founder Zhao Changpeng. He commented on the thread and indicated he would purchase a Tesla if they accepted crypto.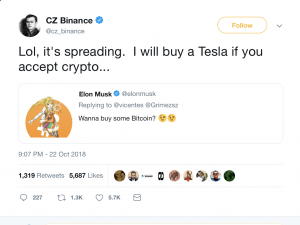 Musk has been a victim of impersonation many times on social media with people setting up fake accounts. This tweet may have been a slight jab at them.