Since 2020 had started Bitcoin had quite of a run higher, managing to break above the $10,000. Expectations were high, given the major halving event scheduled to take place in May, but the move seems to be a little overextended, a fact confirmed by the recent price weakness.
Top of the channel caps the upside
 A few hours ago, the Bitcoin price had started to dip right after touching the $10,500 level on the Bitstamp exchange. As can be easily seen from our chart below, the price action is trading inside a bullish channel formation since the beginning of February. So far, buyers had not been able to push the price outside the structure, but neither did the sellers.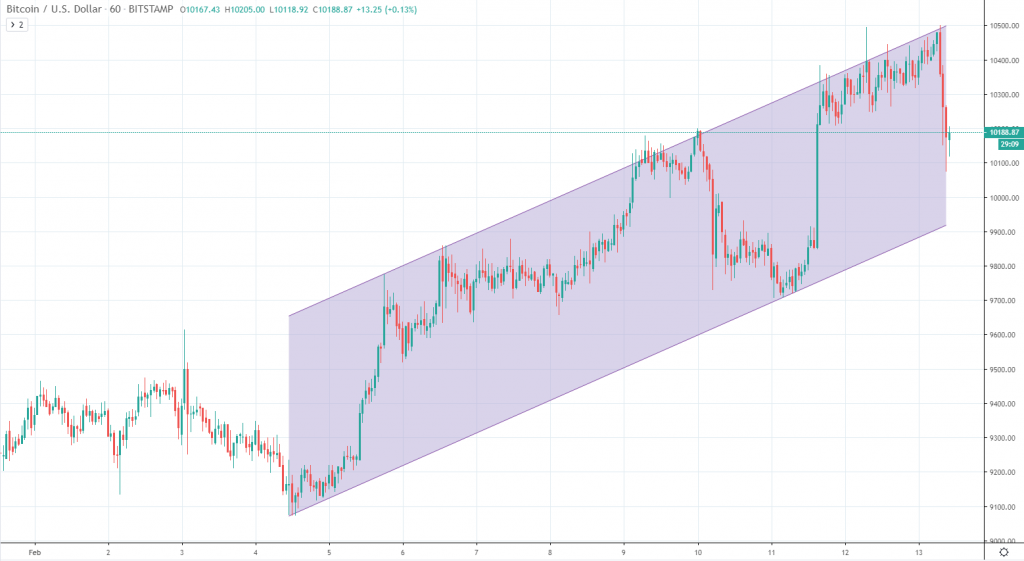 The symmetry looks set to continue and as a result, Bitcoin could head lower, towards the $10,000 area, where the lower line of the channel is currently located. Traders should carefully watch any change there, since an impulsive break lower will be a bad sign for buyers, signaling more pain ahead.
As we've talked in the past article, Litecoin is an important market bellwether, signaling weakness or market strength. Same as Bitcoin, LTC is down more than 2% for the past 24 hours, and that's not an encouraging sign for the short-term. Still, sudden selling without any actual reason is subject to short covering, meaning this retracement could be short-lived.
Balancing short-term weakness with long-term potential
If we zoom on the daily chart, we will notice that the current Bitcoin weakness emerged right where the price dipped at the end of October 2019. There is no negative highlight that could have generated the selling meaning it's technical in nature. Since the $10,500 area had proven to be a key resistance, we should expect more weakness in the near term, but could that dampen the longer-term outlook?
This year will be another special time for Bitcoin since the third halving will take place. The block reward will be cut in half but what's even more important about the event is the massive spike in volatility before and after it takes place.
Although we could see Bitcoin retracing a little lower, there's still a great probability it will manage to break above the current highs and managed to continue higher. Traders should be careful, though, since, in the past, the gains generated before the halving had been wiped out before Bitcoin started a new impulsive bull run higher.