Cardano, currently ranking 15th by global market cap, is one of the cryptocurrency projects that plan to implement an important commercial infrastructure over the upcoming months and had recently provided some reassurances that plans will move ahead, despite the recent economic shock due to the coronavirus outbreak.
Companies had not yet fully entered the panic mode, even though Bitcoin sold off impulsively, alongside all the other cryptocurrencies. Since February 15th, the global cryptocurrency market cap dropped by more than 50% and currently sits around $140 billion, approaching the December 2018 lows very rapidly.
Cardano CEO contradicts speculations
Charles Hoskinson, the current CEO of IOHK, the company behind the Cardano project, had recently talked with the media and mentioned that official updates about the commercial infrastructure will be provided in the upcoming months:
Cardano commercially critical infrastructure are things that Cardano needs for it — in our view — to be competitive against other cryptocurrencies.
Based on his speech, decentralized applications such as the DEFI protocols will be one of the most important features. At the same time, the Jormungandr node software will help improve the Proof-of-Stake Protocol currently in place.
The good news about Cardano doesn't end here, since the number of reported bugs in the Shelley testnet had massively decreased over the past few weeks, showing the software is increasingly stable. Unfortunately, not the same can be said about the Cardano (ADA) price, which continues to head south alongside the entire market.
Cardano technicals to watch
At the time of writing, the ADA token is trading around 2.30 cents on the Binance exchange, after reaching a new all-time low four days ago. Although the price bounced above the previous all-time low on March 13th, selling is resuming again today, March 16th. Buying when the market is making new lows is not the best approach, and traders/investors looking at ADA should wait and see how the market will perform in the upcoming days/weeks.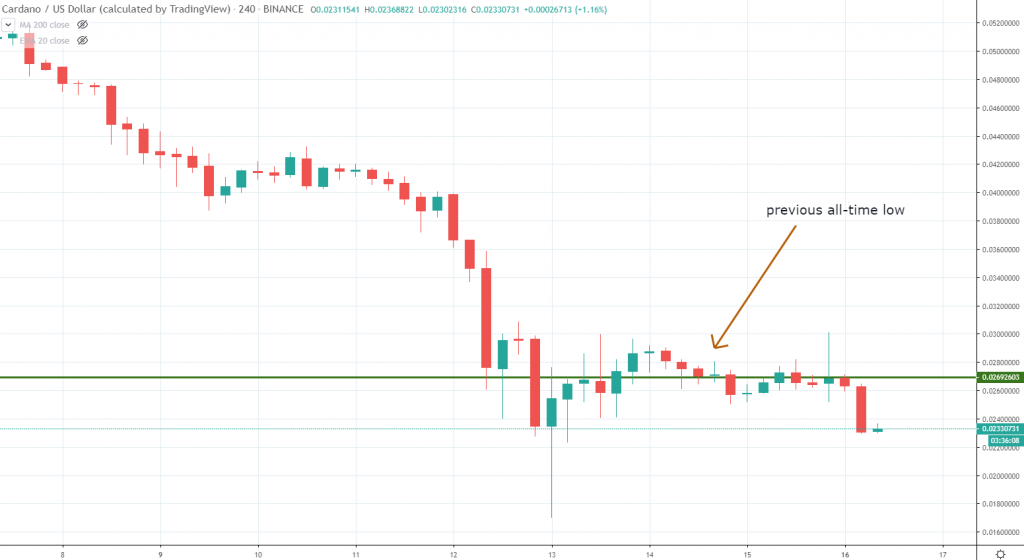 On the day, the ADA token is down about 12% at the time of writing, and the next key level to watch will be 2 cents. In the longer run, it will be important to see what updates will be provided by IOHK. The current market fear will end and with it, plenty of good buying opportunities will start to show. Until then, we need to see some confirmation that ADA had bottomed and right now, that's not the case. Still, the token continues to have a high potential for growth in the long run.