Cryptocurrencies had been under pressure again this week, as the stock market rout continued. Weakness had been spread across the entire crypto market, considering the global market cap had been under heavy pressure. Even though Bitcoin had found a short-term bottom around $10,000, the upside had been capped little above the $11,000 area, and today, September 23rd, the price dipped towards $10,200 again.
$25 billion lost during 4 days
As can be seen from the chart below taken from coinmarketcap.com, the global market capitalization of cryptocurrencies had been under heavy pressure between September 19th – 23rd. Bitcoin had not been the only token hit, considering Ether, Litecoin, and XRP, all with large market cap, had been under pressure.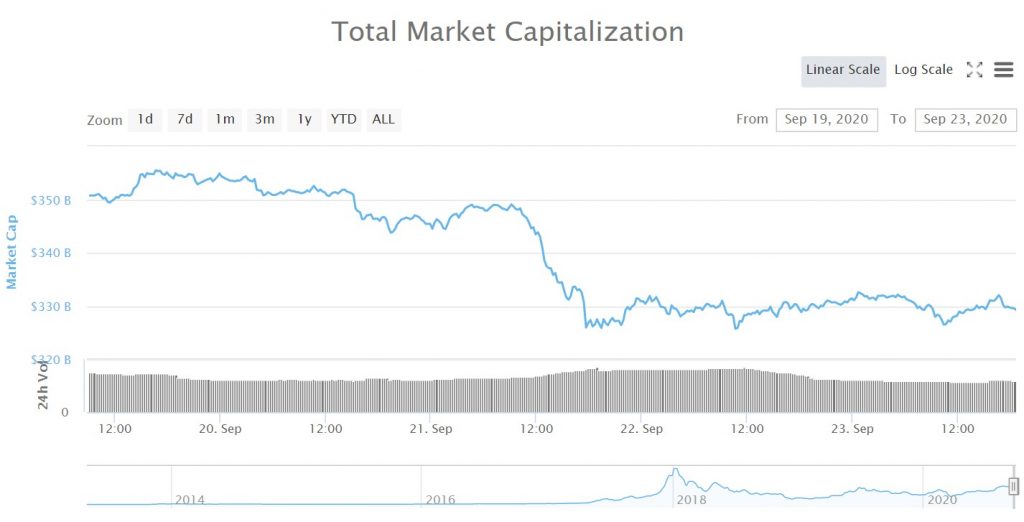 The most significant losses were spotted in DeFi tokens, which had been the major performers this year. After months when we've had a confluence of indicators supporting crypto, things had gradually changed over the past several weeks. THE strengthening of the US dollar, rising COVID-19 cases across Europe, uncertainty around Brexit and the US election, had also put a dent on risk sentiment, leading to the corrective move we're currently seeing.
Is this the start of a large bear market?
Despite the short-term weakness, though, we still can't say that the market momentum had shifted in the long run. The last week we've talked about how 0% interest rates from the Fed can benefit crypto against the fiat in the next few years. Short-term periods of uncertainty are bound to occur in the near-term since that's something usual when the global economy is facing a downturn.
This year cryptocurrencies had proven to be very correlated with other asset classes and because of that, investors/traders should continue to monitor what happens in other markets, to get more insights into what could happen next with cryptocurrency valuations.
Looking ahead, it will be important to watch whether the crypto market cap drops below $320 – $300 billion area because that will be a key indicator for a selling acceleration. Bitcoin breaking below $10,000 and Ether below $300 will be viewed as a selling signal, with potentially more pain ahead during the next few weeks.
Keep in mind that financial markets are bracing for more volatility and uncertainty and because of that, capital is shifting towards cash and other safe havens. Cryptocurrencies are bound to underperform during such periods, which means investors should be patient at least until the beginning of November when the outcome of the US election will be clear.