Trading on cryptocurrency CFDs continues to grow in popularity, given people can take advantage of price movements without having to own the underlying instruments, reducing security risks associated with custody.
TRADE.com is one of the major brokerage houses that has included crypto CFDs in its broad asset list, enabling traders to trade on some of the leading cryptocurrencies.
Crypto trading growing popularity
Cryptocurrency trading continues to grow in popularity as an increasing number of individuals are becoming aware of the digital revolution that has taken the financial industry by surprise. Providing a new alternative to fiat money, combined with the innovations brought by blockchain technology, cryptocurrency trading is now available with the most popular brokerage houses, including TRADE.com.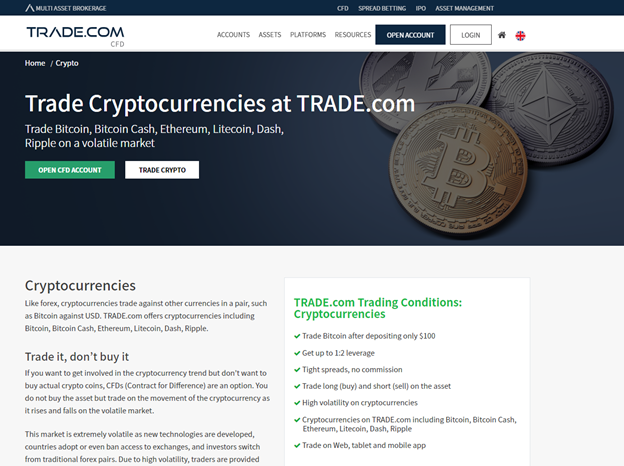 As compared to using traditional exchange platforms, cryptocurrency trading removes any risks associated with custody, as wallets and exchanges had shown security vulnerabilities in the face of hacking or theft attempts.
Considering cryptocurrency trading opens access to a new way to take advantage of floating market valuations, while at the same time, removing the security risks, an increasing number of retail traders are now looking for opportunities in Bitcoin, Ether, Litecoin, XRP, and other altcoins.
What are cryptocurrencies CFDs?
CFDs based on cryptocurrencies are financial contracts that track the exact price performance of the underlying instruments. Traders don't buy cryptocurrencies but derivatives enabling them to go long or short and thus taking advantage of both falling and rising markets.
The past three years had revealed the speculative nature of cryptocurrencies and after several boom-and-bust cycles, traders had become aware that there is potential in both bullish or bearish environments, as long as they have the right trading tools.
TRADE.com crypto CFDs trading offer
Traders can trade cryptocurrencies at TRADE.com and take advantage of price movements in some of the largest cryptocurrencies, including Bitcoin, Bitcoin Cash, Dash, Ethereum, Litecoin, and Ripple.
Given their long track-record, these tokens are still holding large market capitalization and on top of that, are benefiting from increased liquidity, as compared to small altcoins. TRADE.com is enabling clients to open a CFD trading account with a minimum deposit of $100 and get involved in 2,100+ CFDs, including based on cryptocurrencies.
Although other brokerage houses had included crypto CFDs in their trading offer as well, with TRADE.com customers can benefit from a proprietary trading software (WebTrader) and the popular platform MetaTrader 4.
TRADE.COM is a trade name operated by Trade Capital Markets (TCM) which is authorized and regulated in Cyprus by the Cyprus Securities and Exchange Commission and authorized in South Africa by the Financial Sector Conduct Authority (FSP number 47857), and Livemarkets Limited which is authorized and regulated in the United Kingdom by the Financial Conduct Authority.
This ensures a trading ecosystem that's well regulated and in line with the latest European requirements for CFD trading, enabling traders to get involved in cryptocurrency-based CFDs without regulatory or security worries.
Pros (and Cons) of crypto CFDs trading
Same as with any other asset class, cryptocurrencies come with both advantages and disadvantages, which is why professional traders are using risk management and rules-based trading systems to get involved in the markets.
When it comes to crypto CFD trading, the main benefits are the ability to short the market without holding the underlying instrument, as well as the absence of security concerns related to custody.
At the same time, volatility combined with leverage can be a "double-edged" sword, having the potential to increase the profitability or losses. At TRADE.com the maximum leverage for crypto CFDs is capped at 1:2, as the brand wants to encourage responsible trading and a more conservative approach when it comes to volatile instruments.
Risk Warning
CFDs and spread bets are complex instruments and come with a high risk of losing money rapidly due to leverage. Between 74-89 % of retail investor accounts lose money when trading CFDs and spread bets. You should consider whether you understand how CFDs and spread bets work and whether you can afford to take the high risk of losing your money.
TRADE.com

Product Name: TRADE.com
Product Description: TRADE.com is one of the major brokerage houses that has included crypto CFDs in its broad asset list, enabling traders to trade on some of the leading cryptocurrencies.
Brand: TRADE.com
Offer URL: https://www.trade.com/
Trading Platform

Assets

Languages

Customer Service