General Information
Eiro Group is an online trading platform specialized in providing access to a broad range of asset classes, including a selection of trusted cryptocurrencies. Incorporating next-generation trading technologies and some of the most useful tools, the brand wants to show that crypto trading can be done in the best possible conditions.
As a multi-asset provider, its customers can either focus 100% on crypto or build a diversified portfolio with other leading assets like FX, stocks, commodities, indices, ETFs, or bonds. Eiro Group addresses an international customer base, wanting to serve retail traders living in countries where local regulation is not against the provision of these trading services.

There is a diversified account types offer, with options available for both traders with limited and abundant capital available for trading. Eiro Group believes that each customer is important and that is why all will get to benefit from professional customer support, educational resources, market news, and useful trading tools. Do you want to trade cryptocurrencies with Eiro Group and still don't know much about the brand? Read our Eiro Group Review to get more insights.
Trading Platforms
Since it wants traders to trade with confidence, Eiro Group put all the effort into developing a proprietary platform. This WebTrader comes with a different structure and at the same time, several features not seen with other solutions. Among the most notable we should mention live TV and market news, very good when traders need to be updated with the latest market developments. On top of that, the platform support price alerts had a support chat integrated and can be used to make fast deposits or request withdrawals.
Eiro Group had built its entire trading offer around the platform, fully aware traders need to be in touch with the market developments constantly. Advanced charting, risk management tools, and technical indicators don't miss, as it should be normal.
Beginners will like the friendly user interface. Everything is intuitively placed, so dealing via the Eiro Group platform shouldn't be a challenge. The educational resources that will be discussed in one of the following sections will act as further support for those who need to be initiated into the markets.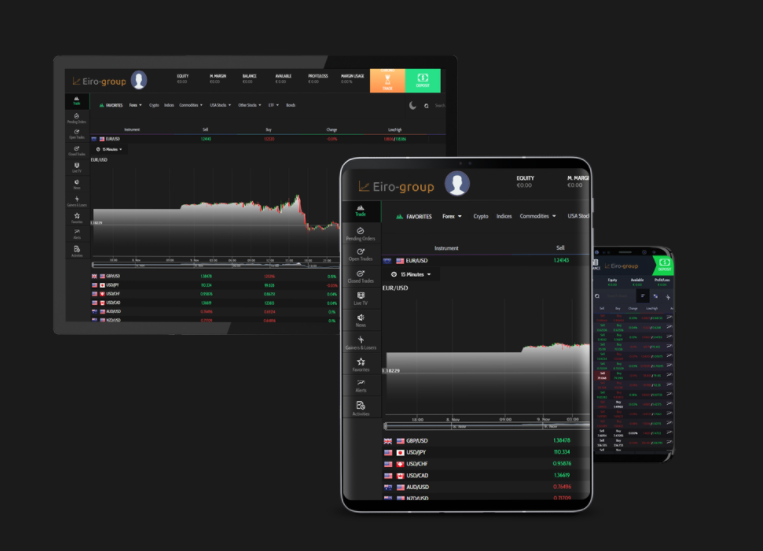 Mobile Trading
Eiro Group does not currently provide access to mobile trading apps but has made the WebTrader compatible with any device. As a result, you can use the platform on a smartphone or tablet without any constraints. The platform is flexible enough to adapt to any screen size and using it on mobile will be of great use when managing trades on the go.
Our testing concluded with good feedback when using the Eiro Group platform on mobile. This is a solution allowing you to trade anywhere and anytime you want, with a uniform trading experience. The brand uses a variety of security protocols to protect your information and money from unwanted threats.
Cryptocurrency Trading
The list of cryptocurrencies currently covered by Eiro Group includes the following large-cap tokens: Bitcoin, Ether, XRP, Bitcoin Cash, Litecoin, EOS, Cardano, Stellar, Monero, Tron, Dash, and others, all available with flexible margin and small commissions.
With 16 different tokens covered (all denominated in USD), Eiro Group is in a better position as compared to other large trading brands that are still focused on a few cryptos. Also, there is a simple 3-steps process for opening an account, useful for those with little or no trading experience.
Eiro Group accepts deposits via credit/debit card or wire transfer. Withdrawals can be made using the same methods after the trading account had been verified by submitting the identification documents.

In terms of trading costs, traders need to consider that for crypto trading they will be charged via spreads, swaps, and commissions. Accounts inactive for more than 90 days will need to face an inactivity fee. For more information on trading costs, you should read the terms & conditions available at eiro-group.com.
Traders get help via various educational resources, including daily market reviews, account managers, and trading signals. Eiro Groups also offers several introductory resources on its website for free. Other premium features can be available, depending on the account type chosen by each trader. The Eiro Group help center also offers support by answering some of the most common questions.
Summary
Eiro Group is a cryptocurrency trading platform designed for the wide public, welcoming any individual wanting to get involved in one of the most active markets in the world. The services offered are diverse and that means traders with different objectives could find them useful. Also, keep in mind the potential geographical restrictions that might apply due to local regulation. Eiro Group looks committed to bringing people one step closer to the cryptocurrency market.
Eiro-group

Product Name: Eiro-group
Product Description: Eiro Group is an online trading platform specialized in providing access to a broad range of asset classes, including a selection of trusted cryptocurrencies. Incorporating next-generation trading technologies and some of the most useful tools, the brand wants to show that crypto trading can be done in the best possible conditions
Brand: Eiro-group
Trading Platforms

Mobile Trading

Cryptocurrency Trading

Accounts
Summary
Eiro Group is an online trading platform specialized in providing access to a broad range of asset classes, including a selection of trusted cryptocurrencies. Incorporating next-generation trading technologies and some of the most useful tools, the brand wants to show that crypto trading can be done in the best possible conditions
Pros
Secure platform
6 account types available
Deposit bonus up to 100%
Cons
Wide spreads for some altcoins
Advanced charts not available for basic accounts