Ether (ETH) is one of the best-performing large-cap tokens since March 2020, after banking 200% in gains. The token bottomed around $100 after the COVID-19 selloff and since then it had managed to show massive gains, outperforming Bitcoin by a large. During the same period, the BTC token had risen from $5,000 to $11,000 at the time of writing. If we look over the past two years, however, the Ether recovery still has a lot more room to do, which leads us to believe that the current outperformance might be some sort of catch-up.
Favorable conditions push ETH higher
The risk appetite had been elevated over the past months, as financial markets had been flushed with liquidity. Investors continue to favor crypto over fiat and that can be easily seen in the cryptocurrency prices, like ETH. A weakening dollar is a major tailwind and as long as the trend won't reserve, more gain could await on the horizon.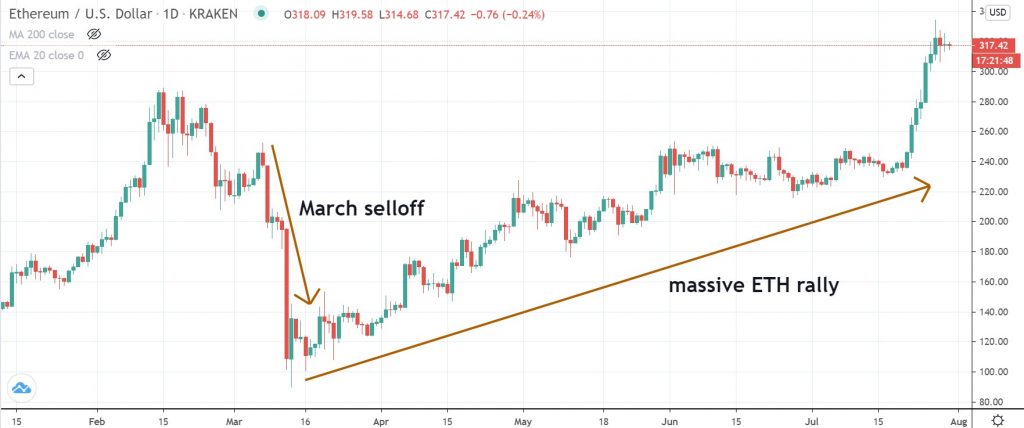 At the same time, there are some fundamental changes taking place with the Ethereum blockchain. With the Ethereum 2.0 implementation starting this year, the ecosystem will move to a Proof-of-Stake consensus mechanism, which is expected to be more supportive of the Ether price.
With miners forced to stake tokens on the blockchain to get rewards for the newly-created blocks, the price won't be subject to aggressive selling when risk appetite losses steam. Even though that does not negate bear markets, with a PoS mechanism and several other optimizations, Ether could regain its competitive advantage over other tokens.
Past underperformance indicative of low competitiveness
In comparison to Bitcoin, Ether had been recovering slowly following the 2018 bear market, mainly because it failed to keep up the pace with competitors. Tokens like Cardano, Stellar, and others are also providing similar features, yet at a whole new different level.
A lot of companies are taking steps to generate blockchain innovations. Just last week we've seen how NEO and BSN joined forces to support broader adoption of blockchain. In this kind of environment, Ethereum developers were forced to step in and Ethereum 2.0 is their response.
Most likely, market participants have already started to price in all the developments that are about to be implemented starting from the next few months. Combined with favorable financial conditions, there could be more upside ahead for ETH, as the momentum does not seem to be fading for now. What do you think about the Ether price, can it can go higher from here?