The first half of 2020 had been a real rollercoaster for Cardano, the 7th-largest cryptocurrency by market capitalization. During February and March, the token eased to a new all-time low and then started a massive rally that propelled the price above the 2019 high. In the past few months, there were a lot of tokens that had been outperforming, including Zilliqa, which we've covered a few weeks ago.
Cardano on the rise – can the rally keep the pace?
Top tick to bottom tick (all the way to the all-time low), the ADA token had staggering 850% rally between the first half March up until the present. This is a very encouraging sign for the token since it means a bottom might have formed around the 2.7 cents area. Buyers rebounded impulsively 2019 around that level as well and now that another much stronger reaction occurred, it could be a longer-term positive development.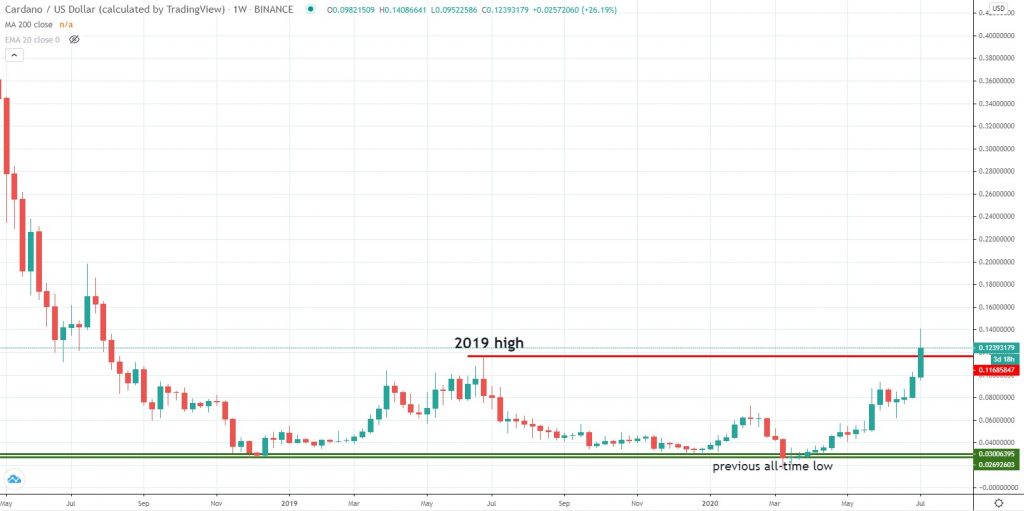 What's even more important is that the price also managed to break above the 2019 high, a technical change that could spur further inflows into Cardano. However, it is also possible that the rise could have been too rapid and because of that, a corrective move could be next. The worse scenario would be if this is actually a pump-and-dump scheme and most of the gains will be erased in the next few months.
Still, as long as Cardano continues to stay above the 2019 high, that's good news for the bulls, since the upside could extend even further. There weren't any significant fundamental changes with the Cardano blockchain in the near term, meaning the entire move is mostly flow-based. However, Cardano comes with some important features, as we're about to see in the next section.
What is Cardano and why is it so competitive?
Founded by Charles Hoskinson, one of the Ethereum founders, in 2015, Cardano was an ICO that managed to raise approximately $60 million in 2017. It is a blockchain platform built in the Haskell programming language, developing smart contracts with more advanced features than any protocol previously used. The layered blockchain software stack is flexible, scalable, and with the most rigorous software standards in the industry. It is also relying on a proof-of-stake consensus mechanism.
The past few years had been a lot of developments in the blockchain sector and the trend continues. We've seen recently that Tokai Tokyo wants to develop a security token exchange and Bitso to launch a crypto donation platform. Cardano is only one of the most promising tokens in the industry and its latest performance raises the bar for the next few months.