Bitcoin's impressive run higher continues after the halving, showing investors are extremely confident in more upside ahead. The price trades around $9,700 at the time of writing and showed little weakness for several days in a row, communicating buyers are still the ones in control over the order flow.  Since a few weeks ago a Bitcoin halving hype had been mounting, as market participants awaited to see block rewards cut into half.
Institutions bullish on Bitcoin price
According to CME Bitcoin options volumes, the aggregated volume traded over the past 10 days exceeded $140 million, with most of the institutional investors buying call options. Around the halving, the price action had been stable, but once the uncertainty had gone, investors had begun mounting bullish positions on Bitcoin.
The performance thus far is somehow surprising, given that Bitcoin had proven to be weak for the short-term after the halving until a new bullish cycle started. Conditions are different now and the derivatives market plays an important role in determining the direction of the price. Open interest in the derivatives market remains elevated and that should indicate continuing optimism for Bitcoin until any downside risk will start to weigh on the price.
Bitcoin technicals suggest more upside ahead?
As can be seen from the Bitstamp chart below, Bitcoin buyers had erased almost all the losses of February and March combined. Right now, only limited ground stands before a new 2020 high, which could be a very encouraging sign for the near term.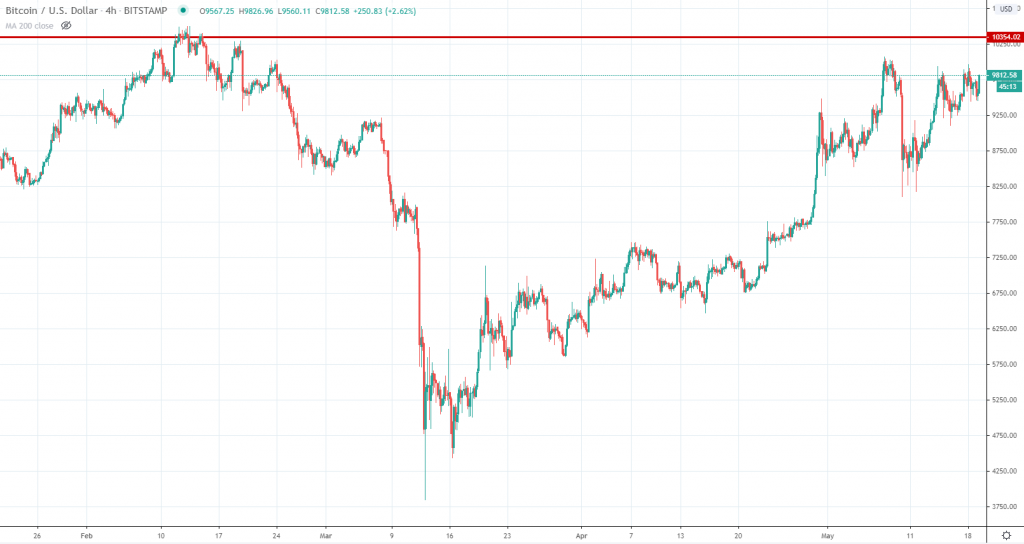 Given the price action structure is parabolic, we should expect to see the price reaching the psychological level one more time, raising the prospects for a breakout higher not-too-far from now. If the break occurs, the next important resistance area lies around the $11,000 zone, which had not been revisited since August 2019.
A lot of new things are happening in the crypto space. Bitso and Donadora had launched a crypto donation system and a new social media announced would be powered by IOTA. For the past two months, cryptocurrencies had been superior to fiat money and investors bought Bitcoin as well as altcoins to protect themselves for the diminishing power of fiat currencies.
Central banks around the world have to print unprecedented amounts to keep the global economy going after the coronavirus outbreak rattled financial markets and dampened all the positive prospects. For now, governments can't control cryptocurrencies, which means this could be another way to protect against the increase of fiat money supply.