Since mid-May, the Bitcoin price had been trading in a narrower range, with no clear directional bias, as the enthusiasm generated by the halving slowly dissipated. At the same time, the price reached a key technical area, as we're about to see, which started a battle between buyers and sellers. Bitcoin is still trading close the yearly highs, communicating investors had been confident in keeping their funds stored in BTC, but the short-term horizon might be a bumpy ride.
Bitcoin broke outside a triangle – bullish scenario ahead?
As it can be noticed in our chart below, the Bitcoin price had broken above a triangle formation, that started to form in mid-December 2018. Since then, neither the bulls nor the bears were able to break, and the price continued to trade in narrower ranges. However, on the 7th of May, the price finally broke above the triangle and since then it had consolidated in what looks to be a small range.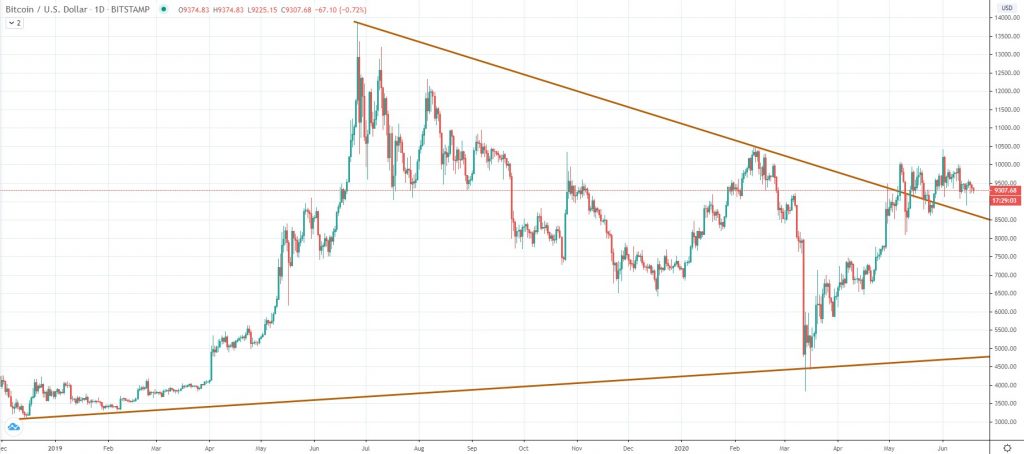 Considering the breakout happened on the upside, all technical analysis experts could argue it opened the case for more upside. Although that could be the case, one of the main concerns has to do with the lack of follow-through buying. Despite the break, buyers seem reluctant, which lead to the current consolidating phase.
It's not excluded to see a new retest of the broken structure and how the price will react will be of great importance, considering it could determine the direction of price for the mid-term horizon. A breach inside the triangle will be a massive hit for the bulls since it will put sellers in advantage. Still, we would need to see follow-through selling to have a confirmation the sentiment switched to bearish.
If buyers will return once the triangle structure is tested, that could be a major bullish signal and more upside will follow in the next few months. At this point, though, the market lacks any significant catalyzers. There's nothing able to push valuations on either side, leading to a contraction in volatility. Some cryptocurrencies like Zilliqa had been very active and banked solid gains, outperforming Bitcoin by a large.
As the past few years had shown us, volatility compressions are followed by wild price swings and at some point in time, we will see the market moving impulsively again. Keep in mind there are special conditions in 2020, due to the coronavirus pandemic. Increased rate of infections in March led a sharp drop in cryptocurrencies and as new cases start to rise again at a worrying pace, the same could happen once again.