Although the public's attention continues to be focused on large-cap tokens, smaller altcoins had been under the radar, despite posting massive gains in the past two months. Zilliqa is only one of the examples, after jumping a staggering 950% since March when the cryptocurrency market bottomed. It is true Bitcoin had been on high heels after a successful halving, but investors might have missed bigger gains by ignoring the altcoin market.
Zilliqa surges – more upside ahead?
The price pump in Zilliqa is relentless and should start to raise concerns among cryptocurrency investors. On March 13th, the ZIL token was valued at approximately 0.3 cents and it is currently trading at 2.49 cents, up 16.57% during the past 24 hours. Since the beginning of May, trading volumes had been increasingly high, as it can be noticed from the coinmarketcap.com chart below, communicating heavy flows was supporting the price rising.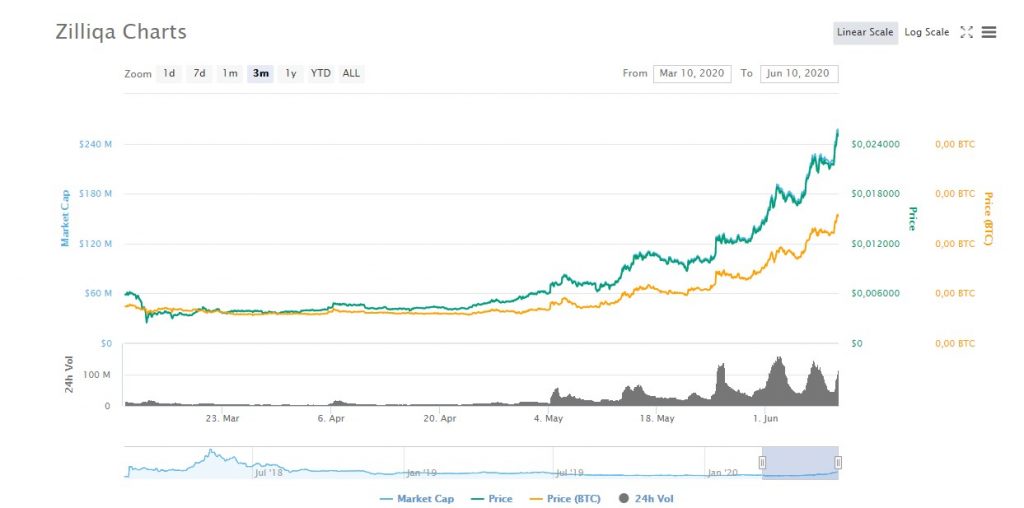 Due to this rapid rise in value, Zilliqa is currently the 35th largest cryptocurrency, with more than $250 million in market capitalization. The coin had outperformed the broad market and left Bitcoin miles behind in terms of performance, which should start to raise some concerns, given that no fundamental change occurred in the past few months.
What is Zilliqa?
Launched in 2017, Zilliqa's main purpose is to enhance the scalability of cryptocurrency networks like Ethereum. Sharding is a concept used by the Zilliqa network to divide financial transactions into smaller groups for miners to perform parallel transaction verification. The main goal is to reach consensus faster, increasing the number of transactions processed during any given period.
The Zilliqa white paper states that it could scale up to 1000x the transaction speed on the Ethereum network. The bottom line is that the system works to get rid of network congestions and let developers worry about how the further enhance their blockchain networks.
Even though the project is reliable and trusted, the short-term rapid surge in price does not seem to be generated by any fundamental change. It will be interesting to see how far the price could extend higher. It is obvious that even the strongest rallies fade at some point. As seen recently, even Tezos, a reliable ICO is not facing a lawsuit and must return a fraction of the funds raised during the ICO. Will Zilliqa continue to rise relentlessly, or will it start to consolidate or retrace lower? Share your thoughts in the comments below!